Cute Dinosaurs Coloring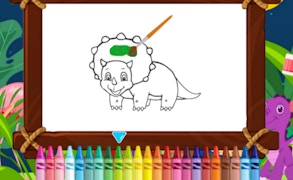 Cute Dinosaurs Coloring
Strap yourself in for a prehistoric adventure with the delightful Cute Dinosaurs Coloring. This game, tailored specifically to the imagination and curiosity of young gamers, offers an engaging twist to conventional dinosaur games and games for kids.
Unleash your child's inner artist with this riveting fusion of drawing games and coloring games. As each dinosaur comes alive with vibrant hues, your little ones will be swept away into a world where creativity reigns supreme. With eight unique dinosaur drawings awaiting their artistic touch, this game strikes the perfect balance between entertainment and education.
The gameplay is as intuitive as it is captivating. Providing a palette of 23 different colors, this online coloring game encourages kids to mix and match shades until they've breathed life into their favorite gigantic reptiles. It's not just a game but also an opportunity for children to express their creativity.
One outstanding feature of Cute Dinosaurs Coloring is its race against time. Kids are challenged to color as quickly as possible for a fantastic score at the end, injecting an element of excitement while fostering hand-eye coordination skills.
The icing on the cake? They can save their colored masterpieces! Children would revel in showcasing their artistic prowess - making this game an excellent choice not only for its educational value but also in promoting self-expression among kids.
If you're searching for a fun-filled game that sparks creativity while keeping your kids captivated by the enchanting world of dinosaurs, then Cute Dinosaurs Coloring ticks all the boxes. It's not just another addition to dinosaur games or coloring games; it's where learning meets fun in the vibrant world of dinosaurs!
What are the best online games?