Cut the Rope: Magic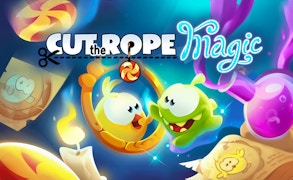 Cut the Rope: Magic
Om Nom the little green ball buddy may almost be too popular as his adventures have expanded into other realms as shown in Cut The Rope: Magic. This time, Om Nom has gotten into the mystical arts by messing around with a spellbook. Unfortunately, he's also drawn the attention of a mean spider wizard who wants to trap Om Nom and take all of his candy. Well, that's not very sweet of him, so you'll need to turn his magic against him by using it on Om Nom. This way, he'll be able to explore new worlds and get even more candy.
About Cut The Rope: Magic
Sometimes there are sequels that aren't really sequels typically denoted by not having a number attached to the title. This game may be a spin-off of the original or its own separate story, but it still fits in the same universe. All the things that made the original game fun to play are still here but with updated graphics and sounds. You've also got a new mechanic that makes Om Nom more of a participant than just an observer. It changes the way you can experience the levels and adds a new layer to reaching the candy aside from just cutting a rope.
How to Play
Cut The Rope: Magic is a 2D physics puzzle game that uses the mouse to imitate tap and swipe mechanics. You can use the Left Mouse Button to click on objects and elements you'd like to tap or hold it down and drag the mouse across in order to swipe. You need to use both in order to make use of Om Nom's magic and to cut the various ropes. The goal of each level is to make it so that Om Nom eats the candy. You can collect all the Stars to fully complete each level if you so choose.

There are six worlds that On Nom needs to travel through in order to reach the wizard at the end of each one. Each world introduces new environment elements such as water and swinging platforms that you need to work with in order to get the candy to Om Nom and vice versa. Both the candy and Om Nom will be affected by physics like gravity, friction, and momentum. It should also be noted that both of them will float in water. To change Om Nom's form with magic, click the icon in the bottom left corner. To change him back, click it again, but be warned that Om Nom can only transform once per level.
If the candy is destroyed or moves offscreen, Om Nom won't be able to get it and you'll need to restart the level. For most of his transformations, Om Nom can still eat candy and be affected by devices like bellows and falling blocks.

Tips and Tricks
The key to beating this game is to understand all of the limits of Om Nom's transformations. Once you do that, you can move him wherever you want without ever needing to worry about the candy. In many ways, the roles are reversed and it's Om Nom you need to focus on moving around.

Cut The Rope: Magic Transformations
The main mechanic of this entry in the series is that Om Nom can use magic to change into different forms. Each world has its own form, making 6 in total.
Bird - Om Nom changes into a little yellow bird that hovers above his previous location.
Shrink - Om Nom becomes very small allowing him to squeeze through narrow gaps.
Mouse - Om Nom becomes a mouse that will wander toward the location of the candy.
Fish - Om Nom becomes a fish that will constantly swim down.
Ghost - Om Nom becomes a ghost allowing objects to pass through him so he can't eat candy.
Dragon - Om Nom transforms into a dragon that sneezes with explosive impact before quickly changing back.
Game Details
Developer: ZeptoLab
Platforms: Web Browser (PC and mobile), iOS, and Android
Languages: English, Spanish, French, Italian, Portuguese, Dutch, German, Hebrew, Arabic, Japanese, and Russian.

Gameplay Footage
FAQs
Where does Cut The Rope: Magic fit in the series?
Having been released in December 2015, this entry remains the most recent game in the Cut The Rope series.
Games similar to Cut The Rope: Magic
This title is joined by other titles in the same series also on GamePix. They include Cut The Rope, Cut The Rope 2, Cut The Rope: Experiments, and Cut The Rope: Time Travel.
What are the best online games?