Cut The Rope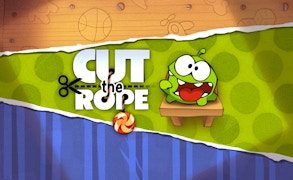 Cut The Rope
Game titles can be some of the most enigmatic parts of the game, but Cut The Rope is not one of them. This is because the title is both the goal and the instructions for how to play, not that you wouldn't be able to figure it out naturally. In a series of boxes, a small lizard-like creature named Om Nom is eagerly awaiting a candy that is just out of their reach. Your job is to make sure that his sweet tooth is satisfied by guiding the sweet directly into Om Nom's mouth. Apparently, the creature's appetite is insatiable as there are countless levels with countless candies.
About Cut The Rope
This is an example of just how simple a game can get while still being quite entertaining. The colorful graphics and the physics in play also add to the enjoyment and appreciation of the scenario. It feels like you're playing through a Rube Goldbergy machine that has been separated into various boxes. The star system is also quite appealing and concise rewarding your ingenuity to get them before the candy makes its way to Om Nom. If you don't have a lizard or a sweet tooth, you may want to get both after playing through a few levels of this game.
How to Play
Since Cut The Rope is what you'll have to do in order to succeed, the game mainly uses swiping mechanics along with tapping in some scenarios. As such, the game is entirely controlled by the mouse.
Controls
(Hold) Left Mouse Button and Moved - Swipe/Cut
Left Mouse Button - Tap
The goal is to guide the bright candy suspended away from Om Nom to their mouth through a combination of swiping and tapping. The candy is affected by gravity and will move based on starting position and what elements are affecting it. You need to interact with the elements in such a way that the candy gets safely to Om Nom which completes the level. You can also guide the candy to collect stars scattered around the level for a higher score. You'll fail the level if the candy leaves the box or is destroyed.
Tips and Tricks
Some levels give you plenty of time while others have a ticking clock of sorts so be prepared to react. Take time to access all the elements in play and how they can potentially interact with each other. This will help you create a clear path for the candy.
Cut The Rope Seasons and Elements
As you go through the different boxes, you'll unlock new seasons and elements which you'll need to master to win.
Season 1
Ropes - Attached to the candy to hold it in place, suspend, or swing.
Bubbles - Catches the candy and makes it float up.
Automatic Ropes - If the candy enters the perimeter, the rope will attach.
Spikes - Hazard that destroys the candy on contact.
Air Cushions - Tap to blow a puff of air that can move the candy around.
Spiders - These pests try to steal your candy by climbing along ropes.
Movable Ropes - Ropes attached to a point that can be moved in a fixed space.
Timed Stars - These stars will disappear after some time has passed.
Electric Sparks - Hazards that destroy candy, but can be turned off.
Magic Hats - Act as a portal between hats that the candy can use.
Candy Pieces - Collect the pieces to form the whole candy.
Season 2
Bouncing Platforms - Will bounce the candy on contact.
Wheel Ropes - Ropes attached to a wheel that you can reel in or out.
Gravity Shift - Change whether gravity goes up or down.
Blades - Hazards that you can move within a fixed space.
Bees - Carry candies around the level.
Season 3
Discs - Turn everything that's on the disc around the level.
Ghosts - Can transform into a variety of other elements.
Steam - This can blow the candy, but can also be turned off.
Lanterns - Drop in the candy to make it appear in the other lanterns.
Mouse - Will carry the candy from one mouse hole to another.
Night Lights - Turn on to reveal stars and move the candy.
Conveyor Belt - Carries elements across it at your control.
Game Details
Developer: ZeptoLab
Platforms: Web Browser (PC and mobile), iOS, and Android
Languages: English, Russian, German, French, Italian, Spanish, Dutch, Portuguese, Korean, and Japanese
Gameplay Footage
FAQs
Is Cut The Rope free?
Yes, this game is currently free to play and download on PC, iOS, and Android devices. However, the app version contains in-app purchases for extra gameplay elements such as power-ups.
Games similar to Cut The Rope
This game has quite a history and has found its way into the Exclusive and Mobile Games categories of GamePix. Searching through these will show you titles like C.A.T.S., Tower Crush, Jetpack Joyride, and Food Empire Inc.
What are the best online games?