Cube City Wars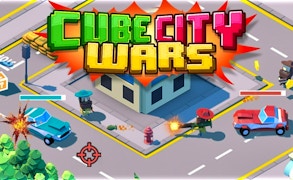 Cube City Wars
Unleash your inner action hero in the ultimate urban battleground of Cube City Wars. This action-packed game resounds with the echo of gunfire and the rev of engines, glorifying it as a top-performer in the gun games and battle games categories.
Think Monopoly, but instead of a family game night, it's a gripping battle for supremacy between two intrepid characters in a city constructed completely from cubes. This game is the epitome of the adrenaline-pumping thrill you expect from top-tier 2 player games.
In Cube City Wars, not only does the anticipation build as you engage with your opponent but also when fending off CPU players. A theater where tactical genius meets dexterous handling of weapons and vehicles, rewarding those who can outgun, outmaneuver, and outsmart their adversaries.
The intricacies lie not just in doing battle with your foe, but also mastering an arsenal including diverse weapons and ruthless airdrops. The raw power of these tools adds credibility to Cube City Wars' standing as an exciting addition to your collection of gun games.
Tear through city streets in high-speed chase sequences that test your driving skills to their limits, solidifying Cube City Wars' rank among other battle games. The unique twist here: this isn't just any city—it's your city. Built from blocks but made for battles.
In conclusion, test your strength against CPU players or call up a friend for one hell of a ride in one of the best 2 player games. Cube City Wars is not just about exchanging bullets or throwing punches—it's about strategy and survival in this neo-noir cubic battlefield. If you're looking for an electrifying blend of gunplay and vehicular mayhem played out on urban battlegrounds—Cube City Wars ticks all the right boxes.
What are the best online games?