Crowd Stack 3D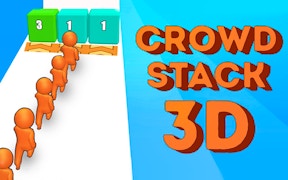 Crowd Stack 3D
Immerse yourself in the genre of arcade games with a truly original title, Crowd Stack 3D. This title stands out among other stickman games, creating an addictive and immersive gaming experience that's ideal for all ages. It's not just about running; it's about strategy, skill, and pure enjoyment.
In Crowd Stack 3D, your goal isn't to simply survive - it's to thrive. You're on a mission to win companions and overcome challenges together. As a testament to its position among superior running games, Crowd Stack 3D offers an element of strategy seldom seen in this genre. It's about gathering allies and storming the stage - a task that requires both quick reflexes and sharp strategic thinking.
Diamonds aren't just a girl's best friend in this game; they're your key to unlocking various skins that add spice to gameplay. Part of what makes this choice among stickman games so enjoyable is the constant pursuit of these diamonds, adding an extra layer of challenge and competitiveness.
The game beautifully balances difficulty with fun, ensuring that while it may be tough at times, it never strays from being a delight to play.
Crowd Stack 3D excels in its simplicity but don't let that fool you; it's rich in content and satisfying gameplay mechanics. Whether you're an avid fan of arcade-style skill games or just looking for something unique to pass the time with, Crowd Stack 3D is worth considering.
To sum up, Crowd Stack 3D is more than just another game; It's a testament to what stickman games should aspire to be. An exciting blend of simplicity and sophistication, this is one arcade game you won't want to miss out on!
What are the best online games?