Crowd Pusher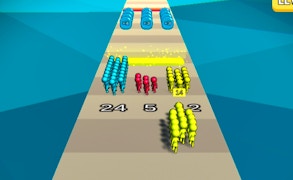 Crowd Pusher
From the dynamic digital universe of arcade games, emerges an utterly addictive, web-based sensation, the Crowd Pusher. Shaping a remarkable blend of stickman games, running games, and skill games, this title pushes the boundaries of hyper-casual gaming, placing it among the forefront of modern-day hyper casual games.
Taking on a unique concept, Crowd Pusher compels you to exercise your wits and agility, as you gather numbers and same-color characters on a platform to overpower your nemesis. Engrossed in this speedy world, you'll discover that the key to survival is strength. The stronger you are, the more formidable an enemy you become for the boss.
The game's exquisite detail lies in its distinctive approach to growth – fun-filled action-packed math! Every digit you collect not only fuels your power but also tests your quick calculation abilities. But beware - if your crowd isn't enough to match the boss's might, be ready for a surprise showdown!
Crowd Pusher doesn't merely throw you into an endless run; it gives birth to riveting strategies as you prepare for battles against menacing bosses. It challenges your decision-making skills at every step and keeps adrenaline rushing with hairpin curve situations.
The game unveils its brilliance on Meyagames.com - a hub for free and unblocked games. Whether you want a rush of excitement or test your strategic skills, Crowd Pusher paves the perfect path.
In a nutshell, Crowd Pusher is more than a game – it's an electrifying journey through thrilling challenges and cataclysmic encounters with fierce enemies! Jump into this immersive gaming experience today.
What are the best online games?