Crowd City 2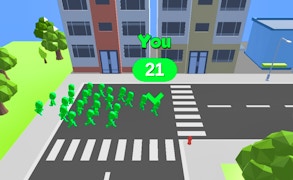 Crowd City 2
Immerse yourself in the bustling streets of Crowd City 2, a standout in the realm of multiplayer running games. This strategic escapade demands more than just swift navigation, it introduces an exhilarating blend of strategy and agility that sets it apart from other stickman games.
The premise is simple yet engaging. You start as a lone figure striving to amass an army by gathering people across the city, but transforming into the biggest crowd in town is easier said than done. Each click of your left mouse button orchestrates the movements of your growing horde, allowing you to outwit and outmaneuver your opponents.
What makes Crowd City 2 a true gem among multiplayer running games is its enticing balance between strategic leadership and fast-paced action. It's not just about who can run the fastest—it's about who can build the biggest crowd, control it effectively, and crush competitors with robust strategies. This adds a thrilling depth to gameplay that goes beyond the typical features of stickman games.
Visually, Crowd City 2 offers clean, appealing graphics that complement its high-stakes gameplay. The simple design lets you focus on what's important—dominating as the largest crowd in the city. Every phase comes with a fresh sense of thrill as you avoid puny packs while hunting down smaller crowds, adding more followers to your ever-swelling mass.
In conclusion, Crowd City 2 takes traditional running mechanics and ingeniously weaves them into a game filled with strategy and excitement. If you're searching for engaging multiplayer stickman games that demand both speed and skill, look no further—Crowd City 2 beckons you to conquer its urban jungle.
What are the best online games?