Crossy Froag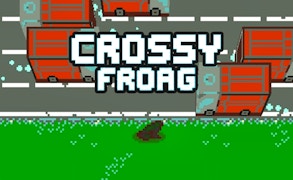 Crossy Froag
Description
In Crossy Froag, players are put in the shoes - or rather, webbed feet - of a daring frog braving treacherous traffic. The objective is simple, yet thrilling: navigate your way across busy streets without getting squashed. This exciting arcade style game presents challenges that increase intricately as you progress, ensuring an engaging experience full of suspense and fun.
How to play
Direct your amphibian avatar with straightforward arrow controls. Guide your frog safely across lanes packed with speeding vehicles but beware! Time your steps carefully to avoid disaster. The further you progress, the faster the traffic and the harder it becomes to cross safely. Every successful cross increases your score and the tension!
Tips and Tricks
Patience is key in Crossy Froag. Avoid rushing through lanes without studying the traffic pattern first. Keep an eye on fast-approaching vehicles and gaps between them. Though speed increases as you progress, remember to take calculated risks to ensure survival.
Features
Simple Controls: Easy-to-use arrow keys for movement.
Diverse Challenges: Progressively complex traffic patterns to navigate.
Pulse-Pounding Action: Increasing speed of play for thrilling gameplay experience.
Cute Animal Theme: Iconic frog character at the heart of the action.
What are the best online games?