Crazy Police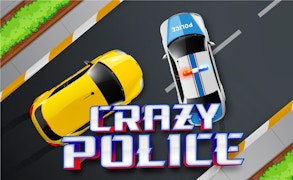 Crazy Police
Description
In Crazy Police Chase Racing Game, you step into the fearless world of high-speed chases. Experience the thrill of tangling with the law as you race against time, collecting as many dollars as possible and navigating through numerous obstacles. The game not only features mind-blowing police cruisers but also some of the most superior supercars. This action-packed driving game assures you a thrilling escape filled with adrenaline-pumping moments.
How to play
The game controls are simple yet engaging. You click or tap to navigate your car, racing against time while being pursued by police vehicles. Your primary goal is to collect dollars that are scattered throughout the course, and simultaneously dodge obstacles with slick maneuvering skills. Each successful evasion and collection will help increase your score and stay ahead of your pursuers.
Tips and Tricks
Familiarize yourself with the game controls for smoother navigation. Always keep an eye out for dollar signs while avoiding obstacles. Vigilance is key, ensuring that you don't miss any opportunity to score points or end up crashing into an obstacle.
Features
Mind-Blowing Cars: The game features a range of superior supercars and police cruisers.
Thrilling Police Chases: Embrace your inner rebel as you engage in high-speed chases.
Addictive Gameplay: The simple click or tap controls and constant action make this game highly addictive.
Race Against Time: Each level is a race against time, ensuring non-stop exhilaration.
What are the best online games?