Crazy Jumper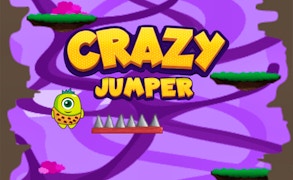 Crazy Jumper
Description
Immerse yourself in the adventurous world of Crazy Jumper, an enticing online jump platformer game. Embark on an exhilarating journey as you leap from one rock to another, braving countless thrilling challenges and obstacles. Simplicity is deceptive here, as skill, precision, and agility play crucial roles in conquering this fun-packed game. It's not just about getting to the finish line but accumulating phenomenal scores along the journey!
How to play
Navigate the Crazy Jumper with relative ease using your mouse or keyboard arrows. Click or press to jump and make your move from one rock to another. You progress by advancing as far as possible while avoiding dangerous obstacles in your path. Strategize your jumps carefully for optimal distance and maximum points.
Tips and Tricks
Being swift isn't enough, be smart! Avoid unnecessary risks and short jumps whenever possible. Timing is crucial, try jumping at the last moment for maximum leap distance. Keep an eye out for power-ups they can provide significant boosts on this invigorating adventure.
Features
Intriguing premise with addictive gameplay mechanics.
User-friendly interface suitable for players of all ages.
Dynamic obstacles add to the overall thrill of the game.
Power-ups offering temporary advantages such as increased speed or invulnerability.
Fascinating graphics that keep players engaged till the end.
What are the best online games?