Cowboy's Shooter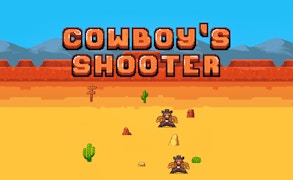 Cowboy's Shooter
Description
Set in the wild west, Cowboy's Shooter is an action-packed shooting game where you step into the boots of a skilled cowboy. Designed with colorful pixel graphics, this game offers an enjoyable old-school experience. Your task: face various opponents in intense gunfights and destroy them to prove your worth as the greatest gunslinger. Created by brilliant Italian game developers, this game delivers a unique blend of skill and strategy!
How to play
The controls are simple to understand but challenging to master. Use your mouse to aim and shoot your enemies while trying to dodge their attacks. The key to survival: outsmarting your opponents and moving swiftly. Your score increases with each enemy defeated. The game gets tougher as you progress, making it even more exciting!
Tips and Tricks
To excel at Cowboy's Shooter, planning your moves is vital! Predict opponents' movements, shoot accurately and don't forget to keep moving. Use surrounding objects as protection. Remember: a stationary cowboy is an easy target!
Features
Intense shooting mechanics that test player skills.
An exciting wild west theme with vibrant pixel-graphic design.
A blend of tactics and quick thinking required for progress.
A high score system for competitive play.
A product of Italian creativity!
What are the best online games?