Commando Game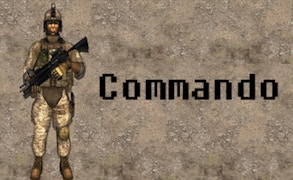 Commando Game
If you're a battle-hardened gamer who finds solace in the thunderous cacophony of gun games and the strategic demands of war games, then look no further than the adrenaline-driven experience delivered by Commando Game.
A dynamic offering in the realm of battle games, Commando Game is an electric fusion of relentless action, strategic gameplay, and the raw intensity of third-person shooter games. With five nerve-wracking levels, each showcasing a unique mission that would keep even the most seasoned gamers on their toes, this war game is sure to capture your attention.
In Commando Game, you don't just participate in militant activity - you end it. You become an agent of destruction as you penetrate militant areas to locate time bombs designed to decimate militant camps and train tanks. The unique 'blow up the building' feature extends your reign of destruction beyond enemy troops and into their fortresses.
The game exhibits sheer brilliance with features such as its 360-degree player movement that offers the freedom to strategize your next move from every conceivable angle. An unlimited bullet supply ensures that your assault on enemy lines remains relentless - an attractive feature for those who relish non-stop action.
Making full use of the 'hide n attack' feature will test your stealth abilities while reminding players that sometimes, in war games, silence is more deadly than any firearm or explosive. The time bomb element adds a ticking clock into this chaotic mix, injecting a sense of urgency into every encounter.
In conclusion, Commando Game is a thrilling addition to the realm of action-packed gun games and war games with its immersive gameplay features and heart-racing narrative that keeps gamers engrossed. A must-play for all action gaming afficionados.
What are the best online games?