Coloring Objects For Kids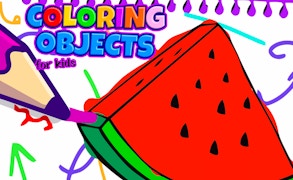 Coloring Objects For Kids
Description
In Coloring Objects For Kids, unleash your child's creativity and immerse them into the world of colors and shapes. This game adds a fun twist to ordinary coloring books, offering kids the freedom to paint over 40 different objects. With an easy-to-use interface, this game is designed to keep entertainment and learning hand in hand.
How to play
The game couldn't be simpler! Select your preferred color from the color palette and start drawing on the selected object using your finger. Draw, paint, or color - let your imagination guide you. Once done, you can start over with a new object. There's no end to the fun!
Tips and Tricks
Use a combination of different colors for a more vibrant outcome. Don't be afraid to experiment with unusual color combinations for objects - there's no right or wrong! Try out various patterns or shading techniques for a unique masterpiece.
Features
Easy-to-Use: Simple user interface specially designed for kids.
Versatile: Over 40 objects available for coloring.
Creative Fun: Endless opportunities for creative expression.
No pressure: A quiet and relaxing game perfect for children.
What are the best online games?