Coloring Dinosaurs For Kids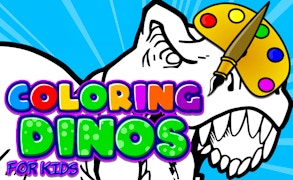 Coloring Dinosaurs For Kids
Description
Unleash the inner artist in your child with Coloring Dinosaurs For Kids. This game offers an excellent platform to enhance their painting and coloring skills all while learning about dinosaurs. The user-friendly interface is perfect for young kids to easily navigate and enjoy the coloring process. The game provides a rich collection of dinosaur outlines ready to be filled with vibrant colors. With 6 calming soundtracks playing in the background, this is a great educational application for your kid to unwind!
How to play
The controls are absolutely easy for kids to understand. Simply select your favorite dinosaur from the book, pick a color from the palette and start coloring by tapping or dragging on the areas you want colored. Your progress gets automatically saved so you can resume your art anytime. There's no limit to creativity - kids could color each dinosaur in multiple ways.
Tips and Tricks
Fine-tune your coloring skills by utilizing different shades for each part of the dinosaur. Use brighter colors for highlighting certain areas or stick with pale hues for subtler details. Remember, there's no wrong way of coloring - let your imagination run wild!
Features
User-friendly interface perfect for young kids.
A broad range of dinosaurs outlines for endless fun.
An array of vibrant color palette stimulating creativity.
Soothing soundtracks adding a relaxing atmosphere.
Auto-save feature enabling resuming work at any time.
What are the best online games?