Colorful Shape Tunnel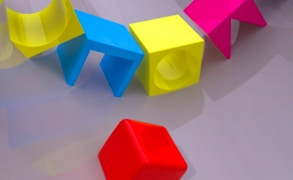 Colorful Shape Tunnel
Immerse yourself in the vibrant universe of Colorful Shape Tunnel, a fresh take on arcade games that artfully combines elements of coloring games, skill games, running games, and hyper-casual games into an exhilarating blend that is as addictive as it is entertaining.
As the name suggests, Colorful Shape Tunnel throws you into an endless path of dynamic obstacles and changing shapes. The journey is not linear; instead, it's a colorful vortex that keeps you on your toes. The fast-paced momentum and vibrant hues of the tunnel ensure there is never a dull moment in this game. It's all about timing and accuracy, as you try to match the shape-shifting player with the ever-changing obstacles.
This game emphasizes quick reflexes and dexterity. But don't be fooled by its simplicity; like many other skill games, it requires concentration and strategy to master. With each passing second, the pace accelerates, urging players to think on their feet. The rapidly shifting shapes and moving pathways provide a pulsating rhythm that keeps gamers returning for more.
Beyond its skill-testing gameplay, Colorful Shape Tunnel shines with its vivid graphics. As a nod to coloring games, it flaunts a palette bursting with splashes of neon blues, greens, pinks, yellows and so much more. Every dive into this tunnel feels like an exploration into an abstract canvas of digital art.
In conclusion, Colorful Shape Tunnel is more than just another entry in the world of running games; it's a visual spectacle that tests your finesse under high-speed pressure. Embrace this entrancing arcade genre mash-up that drives home the fact - gaming is not just about winning; it's about enjoying every moment of play.
What are the best online games?