Color & Decorate Christmas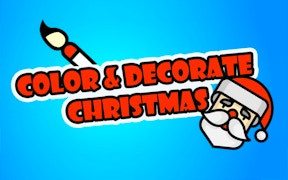 Color & Decorate Christmas
'Tis the season to be jolly, and nothing can bring more joy to your young ones than immersing into the magical world of Color & Decorate Christmas, a delightful blend of christmas games, coloring games, and drawing games, specifically designed for the imaginative minds of kids.
This unique game is more than just one of the many Games for Kids; it is an innovative fusion that integrates the creativity of coloring with the enchanting charm of Christmas. Every coloring page transports your child to a festive scene, replete with twinkling lights, cheerful snowmen, and towering Christmas trees, awaiting their personalized touch.
The game flawlessly transitions from a festive journey into an educational experience. As children navigate through the four different coloring pages, they learn to sketch within lines - an important skill that will mature their artistic and spatial abilities.
But the fun doesn't stop there! After painting a pleasing palette of colors on their masterpiece, children are given free rein to decorate their artwork with vibrant Christmas stickers. Whether they choose sparkling stars or merry elves to grace their creations, every sticker adds another layer of excitement!
Color & Decorate Christmas is not just a game; it is a canvas where children can express themselves within the colorful bounds of imagination and creativity. It's not often that a combination like this comes together - one that simultaneously sparks creativity, celebrates a beloved holiday season and offers an educational development tool for kids.
The enchanting world of Color & Decorate Christmas invites your child to add a splash of color to the festivities. So this season, let every stroke foster creativity and every hue inspire imagination in your young artist. Dive into this captivating world and create unforgettable memories in this unique blend of drawing games, coloring games, and seasonal fun!
What are the best online games?