College Sport Team Makeover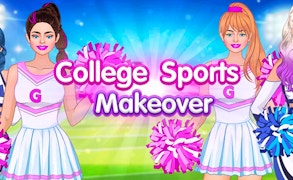 College Sport Team Makeover
College Sport Team Makeover is an exciting new addition to the world of makeup games and fashion games, designed especially for kids who love to experiment with style. This is not just about dressing up one model, but an entire high school sports team of boys and girls collectively.
This interactive game goes beyond traditional dress-up games, as it gives you the chance to be a real stylist. Dressing up college boys and girls on one screen at the same time brings an exciting twist to the conventional games-for-girls genre. The aim is to dress these sporty dolls in a way that reflects your sense of fashion, turning them from regular athletes into style icons.
A unique feature about College Sport Team Makeover is the array of clothes available in the game. You are presented with a huge variety, all designed keeping in mind the latest fashion trends usually observed in high schools. The options range from casual wear to sports gear giving you complete freedom in your styling decisions.
In this game, every character, each college girl and boy have their own set of clothes. This gives you countless options for mixing and matching outfits and creating individual looks for each model. After all, diversity plays a key role in any team!
The experience doesn't stop with dressing up; once your creation is ready, you can capture it by taking a picture of the whole fashion-forward team! For more fun filled activities such as this, press "More Games" inside the app where you'll find myriad of hairdresser games, couple dress-up, bff dress-up, other fashion games and even more college student makeover games aimed for girls.
In conclusion, College Sport Team Makeover is a game that offers a unique blend of fun and fashion, proving itself as a must-play in the world of dress up games.
What are the best online games?