Cocoman 2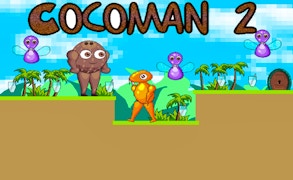 Cocoman 2
Description
Enter the thrilling realm of Cocoman 2, a captivating 2D platformer action-adventure game. Venture through eight progressively challenging levels as you gather essential bottles of coconut milk, your only source of energy. Dodge intense obstacles such as flying monsters, rotating blades and sharp spikes while combating enemy bullets. Navigate through each level's unique challenges and reach the exit door to proceed.
How to Play
Your journey in the world of Cocoman 2 is controlled by either "WASD" or "Arrow" keys for movement across the game's terrain. Pressing "W" or "Up" arrow key twice allows your character to execute a double jump, necessary for overcoming high obstacles or dodging attacks from adversaries. Make sure to collect all coconut milk bottles for an energy boost!
Tips and Tricks
Master the art of double jump as it gives you an upper hand while navigating through platforms and evading enemies. Conserve your energy by running only when necessary and strategize when to collect bottles of coconut milk to maximize energy efficiency.
Features
Diverse gaming landscape with eight varied levels.
Engaging gameplay with progressively increasing difficulty.
Action-packed challenges with complex enemy patterns and movements.
Innovative double jump feature providing strategic gameplay options.
Cute little robotic hero, appealing to gamers of all ages.
What are the best online games?