Circle Monster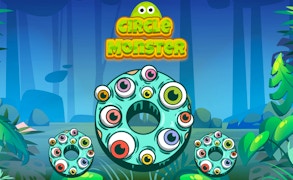 Circle Monster
Description
In Circle Monster, test the limits of your reflex skills in this addictive, challenging arcade-adventure game. Calmly navigate your creature through the line, swiftly reacting to any curves and turns along your path. Strive to last as long as you can, tackling the escalating difficulty while aiming to surpass your personal high score.
How to Play
Circle Monster is all about timing and precision. To progress, players simply need to make the monster jump onto the moving line. Monitor your monster's movement carefully and tap to jump when the timing seems right. Be aware that the game speed gradually increases, making it increasingly challenging.
Tips and Tricks
Mastering Circle Monster requires patience and keen observation skills. With constant practice, you can perfect your jumping timings even as game speed intensifies. Memorize patterns of line formation for better performance. Remember, beating your own high score is the ultimate goal!
Features
Addictive Gameplay: Quick-paced gameplay offering hours of engagement.
Progressive Difficulty: Game speed escalates with time for a hearty challenge.
Score Tracking: Keep track of high scores and aim to outdo them.
Simplistic Design: Easy-to-understand user interface suitable for players of all ages.
What are the best online games?