Cinderella Twins Birth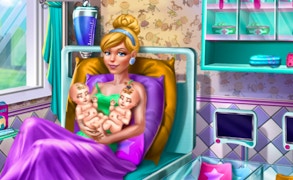 Cinderella Twins Birth
Step into an enchanting realm filled with wonder and excitement in the delightful kids' game, Cinderella Twins Birth. A game that seamlessly marries the realms of Games for Girls, Princess Games, Operation Games, and Baby Games. This captivating game takes you on a magical journey where dreams become reality and fairy tales come to life!
In this spellbinding saga, you'll join the beloved princess Cinderella on her most thrilling adventure yet—motherhood. Experience the heartwarming odyssey of becoming a mother, right from the rush to the hospital till the jubilant twins' birth. Not only does this game deliver an intriguing plot, but it also imparts some basic medical knowledge—making it not just fun, but educational too.
Packed full of thrilling missions and engaging tasks, players will find themselves wholly invested in Cinderella's story. Your mission? Help Cinderella remain calm amidst all this chaos! From assisting her with her oxygen mask to ensuring she remains hydrated—every task is critical. The fun doesn't stop at birth though; once you've safely escorted our princess to the hospital, get ready to meet the newborns. See them take their first breaths, feed them their first meals—they are hungry little princes after all!
Cinderella Twins Birth offers high-quality graphics and vibrant scenery that'll impress every kid gamer. Children will adore witnessing Cinderella's transition from being a beautiful princess to an adorable mum! It's a rich tapestry of characters and adventures that is sure to captivate every child's imagination.
In conclusion, if you're on the hunt for a sweet, entertaining yet subtly educational gaming experience for your little ones—Cinderella Twins Birth ticks all those boxes! Whether they're fans of princesses or fascinated by baby games, they'll love being part of this awe-inspiring tale.
What are the best online games?