Cinderella Dress Up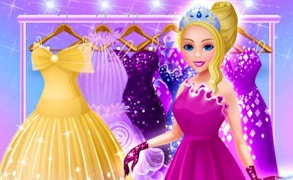 Cinderella Dress Up
Step into the enchanting world of Cinderella Dress Up, a delightful slice of childhood magic centering on one of the most beloved fairy tale heroines. With an inviting blend of games for girls, this vibrant game is designed to spark creativity, and enhance a sense of style. Whether you're a fashionista in the making, or just love to engage in imaginative play, this game hits every right note.
The limitless charm all begins with anticipation as Cinderella prepares to dazzle at the ball, just waiting to meet her handsome prince. This isn't any old fairy-tale though. You are the creator here and Cinderella's stylish splendor is in your hands. This stands out among other dress-up games, as it gives you the power to weave your own fashion story - from princesses to fairies and even brides.
A remarkable feature of this game lies in its diversity within its dress-up options: makeup games, hairdresser games, and more. With elements like these embedded within it, Cinderella Dress Up isn't just a game but a growing experience for young fashion lovers where they can explore, experiment and grow their sense of style through play.
As if this wasn't enough, the extraordinary attention to detail sets new heights for fashion games. Packed with chic clothes to dazzling accessories - it's an absolute dream for anyone with an eye for fashion.
In short, Cinderella Dress Up stands head and shoulders above other princess games. It gives you a chance to immerse yourself in an enchanting world filled with beauty, magic, and lots of dressing up! All while fostering creativity and developing a keen sense of fashion.
What are the best online games?