Christmas Kenno Bot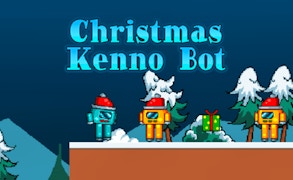 Christmas Kenno Bot
Description
In Christmas Kenno Bot, a fun-filled 2D platformer, you step into the shoes of a brave little bot on an important Christmas mission. Your task is to navigate through a variety of icy, festive landscapes, each packed with enemy bots, flying robots and treacherous obstacles such as saws and spikes. Your goal is clear - collect all the green gift boxes and make your way safely to the Eskimo's door. Beware! There's eight challenging levels to conquer and the difficulty only escalates.
How to play
The controls for Christmas Kenno Bot are simple but mastering them is the key to success. Use "WASD" keys or "Arrow" keys to move your bot around the screen. Need to avoid an obstacle or reach a high platform? Press "W" or the "Up" arrow key twice for a double jump. Remember, each level concludes at the Eskimo's door so stay focused and make your way there.
Tips and Tricks
Navigate carefully around heightened threats like enemy bullets, saws and spikes. Time your double jumps accurately over gaps and onto platforms. Use tactical manoeuvres for handling flying bots – they can come at you from any direction!
Features
Command a robot in an exciting Christmas adventure
Navigate through 8 diverse, increasingly challenging levels
Clever game mechanics encouraging strategic play
Enjoy charming 2D graphics decorated with festive cheer
What are the best online games?