Christmas Chuni Bot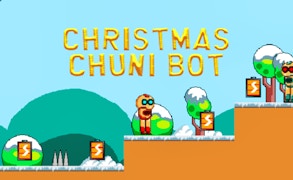 Christmas Chuni Bot
Description
In Christmas Chuni Bot, you embark on an electrifying journey through a 2D Sci-fi world in a festive guise. As a robotic character, your mission is to gather battery cells spread across the scene whilst dodging treacherous enemies like ground bots, flying bots, spikes and saws. The game unfolds over 8 levels, with each one amplifying in difficulty as you venture deeper into this platformer's intriguing realms.
How to play
To guide your robot through the challenging environment, use the "WASD" or "Arrow" keys for movement. To jump and overcome obstacles or to evade perilous threats, press the "W" or "Up" arrow key twice to execute a double jump. Your goal is to reach the exit door at each level while collecting all available battery cells.
Tips and Tricks
Your enemies' bullets can end your journey abruptly! Stay alert and use your double jump ability wisely to outwit these lethal challenges. Keep an eye out for enemy patterns and remember to utilize the terrain strategically in order to survive and progress.
Features
A vibrant 2D Platformer set in a Sci-fi universe with holiday theme.
Diverse range of obstacles including ground saws, spikes and enemy bots.
Fine-tuned controls for precise movement and jumping tactics.
Intricate level design that intensifies difficulty as you advance.
What are the best online games?