Chitu Adventures 2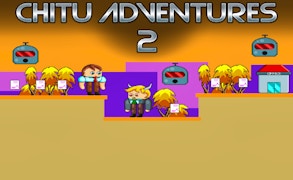 Chitu Adventures 2
Description
In Chitu Adventures 2, you navigate the world as Chitu, a diligent employee on a mission to gather critical documents. The game unfolds in a corporate setting, with malicious colleagues and malevolent flying robots aiming to thwart your efforts. The 2D platformer lets you leap over harrowing obstacles like bullets, spikes, and saws while manoeuvring through eight arduous levels. Each stage introduces escalating difficulty tailored to enhance your gaming experience.
How to play
You can control Chitu's movements using either the "WASD" or "Arrow" keys. To reach higher platforms or evade menacing attacks, use the double jump feature by pressing the "W" or "Up" arrow key twice. The goal is to successfully navigate through each level and reach the Office door while collecting all necessary papers.
Tips and Tricks
Mastery of timing is critical in Chitu Adventures 2. Practice your jumps carefully to evade obstacles and attacks from evil coworkers and robots. Additionally, keep an eye out for patterns in your opponents' movements to predict their actions and plan your manoeuvres accordingly.
Features
Absorbing gameplay: A blend of action-packed sequences and strategic movements ensures an enthralling gaming experience.
Fascinating enemies: Face off against unique antagonists in the form of conniving coworkers and airborne robots.
Progressive difficulty: The game's increasing challenge level keeps players engaged till the end.
Diverse levels: With eight diverse levels, the game offers a variety of scenarios to keep it fresh and exciting.
What are the best online games?