Chewy Jelly Rush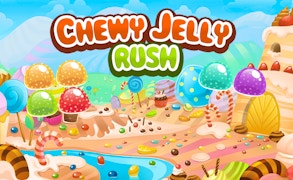 Chewy Jelly Rush
Description
Embark on a delicious adventure in Chewy Jelly Rush, a captivating match-3 HTML5 game. The vibrant universe of the game is filled with irresistible, colorful jelly pieces that you need to align and pop to score points. Its simple yet addictive mechanics will keep you hooked for hours. The challenge rises as you progress, making each level more thrilling than the last.
How to play
To play this game, simply swap adjacent jelly pieces to form a line of at least three matching jellies either horizontally or vertically. Watch as they burst and add points to your score. Bear in mind that your moves are limited, strategize each move carefully to maximize your score. Make progress by completing the objectives of each level within the given moves.
Tips and Tricks
Prioritize matches lower on the board as these will cause a cascade effect, potentially causing multiple matches with one move. Aim for four or more jelly matches, which create powerful special candies that can clear huge sections of the board or even all jellies of a specific color.
Features
Intriguing Puzzle Gameplay: Challenging levels that require strategic thinking and planning.
Vibrant Graphics: Pleasing visuals full of colorful jellies and dynamic animations.
Addictive Mechanics: Easy-to-learn but hard-to-master gameplay keeps players coming back for more.
Friendly User Interface: Simple controls suitable for players of all ages and experience levels.
What are the best online games?