Flip Bottle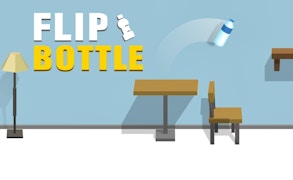 Flip Bottle
Take a leap into the exhilarating world of Flip Bottle, a standout title at the vanguard of arcade skill games. With its roots in the exciting and highly competitive realm of tap games and clicker games, Flip Bottle delivers an entertaining mixture of quick reflexes and careful timing, all housed within an aesthetically pleasing visual design.
Breathtakingly simple yet devastatingly addictive, Flip Bottle invites players to navigate their way through an array of rooms stocked with familiar everyday objects, transforming them into challenging platforms. Besides emphasizing your prowess in skill games, it also brings out your adventurous spirit as you jump on everything from sturdy shelves to squishy sofas, and even thunderous subwoofers!
But the true joy comes in mastering the art of the flip. A single tap at the right moment sends your bottle spinning through the air, performing impressive leaps and flips. The thrill of pulling off a flawless double flip is nothing short of exhilarating; a testament to Flip Bottle's capacity to provide simple yet powerful moments of gaming glory.
In conclusion, Flip Bottle is a refreshing and inventive addition to the world of arcade skill games. Its straightforward gameplay mechanics rooted in tap games and clicker games make it accessible for newcomers yet still challenging for seasoned gamers. Whether you're looking for your next competition or just a fun way to pass time, don't let Flip Bottle pass you by!
One thing remains clear: the realm of arcade games has been thoroughly shaken...and flipped! Embark on an unforgettable journey with Flip Bottle today. Embrace the power behind each tap, each flip, and let this game charm its way into being your next favorite gaming obsession!
What are the best online games?