Casual Checkers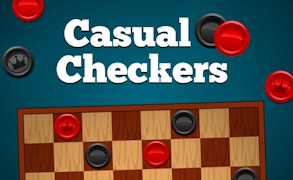 Casual Checkers
If you're a fan of traditional board games and are on the hunt for a new digital challenge, then get ready to immerse yourself in Casual Checkers. A classic checkers game designed to test your strategy skills and ensure a fun-filled family game night, this title perfectly encapsulates the essence of classic checkers games.
The rules of Casual Checkers are based on the classic English / American Checkers or Draughts (excluding flying kings). The simplicity of rules allows anyone to play with ease, making it a perfect choice for both checkers veterans and newcomers. But don't let this fool you. The game's AI can prove to be a formidable opponent, providing an engaging challenge that stimulates the ol' grey matter and places it squarely in the category of top-tier brain games.
Casual Checkers requires strategic prowess as you plan your moves meticulously. You're not just battling the computer; you're immersed in an intense duel with an adversary bent on your defeat. The thrill of outsmarting this virtual competitor is truly satisfying, spotlighting its place as one of the most captivating family games.
Casual Checkers is more than just a typical board game. It's about using strategy and sharp wit to overcome adversities. This game will test not only your skills but also your patience and resilience. Every move you make, every chip you lose or gain, ultimately shapes your path to victory or defeat.
In conclusion, Casual Checkers effortlessly captures the nostalgic essence of traditional checkers games while offering an exciting modern twist with its challenging AI component. It's an excellent addition to any digital library for fans of board games, family games, and brain teasers.
What are the best online games?