Castle Defender Saga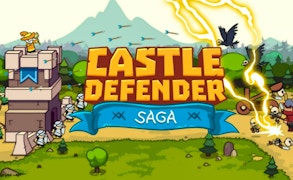 Castle Defender Saga
Imagine gripping your sword with a fierce intensity, readying yourself to face perilous battles in the epic world of RPG and Action games. Now picture doing this in the heart of a medieval castle under siege. If this scenario excites a thrill in you, then Castle Defender Saga, a cross between sword games and battle games, is undoubtedly the game for you.
In the game that brings you close to the world of archetypal knight games and pulsating archery games, you must prepare for an enemy onslaught like no other. Your objective? To defend your stronghold against wave after wave of enemy invasions, testing your strategic acumen and gaming skills to their very limits.
There is a primal satisfaction in training your virtual garrison - be it archers, knights or cavalry, each with their unique skills and capability. Their development from raw recruits to battle-hardened warriors is nothing short of an exhilarating journey. But what sets Castle Defender Saga apart is its unique blend of magic and melee - you aren't just promoting and upgrading troopers, but also nurturing wizards capable of casting powerful spells upon your enemies. The sight of an oncoming horde being decimated by a fireball from one of your magicians is pure gaming joy.
Castle Defender Saga also introduces golems, mythical beasts whose sheer brute strength can smash enemy troops into oblivion. The satisfaction derived from watching these beasts make short work of the invaders provides an adrenaline rush that few games can match.
The question isn't if Castle Defender Saga belongs in your game library; it's why isn't it there already? So strap on your armor, nock that arrow and ready your magic books - the castle awaits its defender!
What are the best online games?