Car Tycoon: Rusty Shore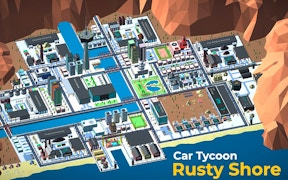 Car Tycoon: Rusty Shore
Description
In Car Tycoon: Rusty Shore, you embark on an exciting journey to establish a thriving automobile empire in Rusty Shore, a small coastal town known for its large pickup truck market. You'll start from the ground up and strive to dominate the auto industry. The game emphasizes strategic planning in car production, logistics, technology development, and market analysis. It also incorporates elements of competitive business practices and finance.
How to play
The game primarily revolves around management decisions. This includes manufacturing cars, purchasing components, managing conveyor lines, and developing new technologies. Additionally, you need to understand the dynamics of supply and demand in the auto market via simulated markets and auctions. To build your brand, launch advertising campaigns and compete with other manufacturers. Lastly, manage your finances wisely to maintain your business' growth.
Tips and Tricks
Invest wisely in technology development for more advanced vehicle models that can increase your market share. Always keep an eye on the supply-demand dynamics in the automobile market. Use this knowledge to outperform your competitors at auctions. Effective advertising campaigns can significantly boost your sales.
Features
Complete control over car manufacturing process
A dynamic simulated auto-market featuring supply and demand mechanics
The opportunity to develop new car technologies
An engaging competition with other manufacturers,
Creative advertising strategies to promote your brand
A detailed banking system for financial management.
What are the best online games?