Car Smasher!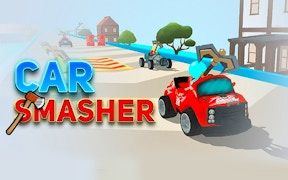 Car Smasher!
When it comes to exhilarating car games, Car Smasher! stands head and shoulders above the rest. If you're a fan of adrenaline-pumping driving games, this title will have you on the edge of your seat, clutching your controller in anticipation. Yet, this isn't just about racing - it's about strategy, action, and domination. Car Smasher combines the thrill and speed of driving with the strategic engagement of battle games.
In Car Smasher!, the excitement begins from the get-go when you choose your car – each uniquely designed with its own strengths and flaws. You then have the power to upgrade and customize these mean machines, creating a vehicle that's truly your own.
These aren't just fun games, they're experiences – fierce races against time where every turn matters, every smash counts. The environment is littered with obstacles that demand sharp reflexes and quick thinking to avoid. Yet amidst all the chaos, there's one target - your opponents.
The battle aspect is beautifully executed in Car Smasher! The goal isn't simply crossing the finish line first; it's about delivering a crushing blow to your rivals – literally! Smash into their cars and cause enough damage to wreck them entirely. Sounds easy? Trust me; it isn't.
The more you play Car Smasher, the more you realize this is no ordinary car game; it's a symphony of speed, strategy and destruction that gets your pulse racing like nothing else could. It strikes a perfect balance between fun gaming elements and challenging gameplay mechanics that ensure each race offers something new.
If you love car games or battle games filled with high-speed action, then don't miss out on Car Smasher! This game has all the ingredients for an unforgettable gaming experience - power-packed action sequences, an assortment of unique cars to choose from, thrilling battles against formidable opponents, and plenty more.
In conclusion: Are you ready to get behind the wheel and dominate in Car Smasher? Start your engines; it's time for some real smashing action! This game is not just about winning - it's about ruling the roads.
What are the best online games?