Car Rapide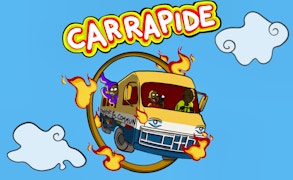 Car Rapide
Description
In Car Rapide, you take a thrilling drive through the vibrant streets of Senegal. As you steer your vehicle down the bustling roads, you must avoid obstacles and collect valuable coins that lay on your path. These coins will help you unlock special cars that can enhance your gaming experience. The game's captivating graphics and stimulating gameplay are sure to keep you on the edge of your seat.
How to play
You control the car using the arrow keys or by tapping on the screen in case of mobile devices. Dodge obstacles by maneuvering your vehicle with precision and grab as many coins as possible. Progress through the game is tracked by the number of coins collected, which enables you to unlock new cars and level up.
Tips and Tricks
Maintaining an optimum speed is crucial for avoiding obstacles effectively. Keep an eye out for coin clusters, they'll give you a significant boost! Investing in special cars as soon as they're available can make dodging obstacles easier, enhancing your overall performance.
Features
Fascinating setting: The game takes place on the radiant roads of Senegal.
Captivating gameplay: The thrill of driving, combined with strategic dodging and coin collecting makes for an engaging experience.
A variety of special cars: Collect coins and unlock new vehicles with unique capabilities.
User-friendly controls: The game is easy to play on both desktop with arrow keys or mobile devices via touch-screen commands.
What are the best online games?