Canoniac Launcher 2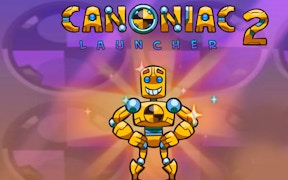 Canoniac Launcher 2
Prepare to blast off into another thrilling arcade adventure with Canoniac Launcher 2, one of the most captivating and fun-filled robot games of our time. Our lovable mechanical protagonist, Jimmy, returns for an exhilarating journey packed with gravity-defying leaps, mid-air spins, and high velocity flights that will leave you on the edge of your seat.
Set on an enigmatic extraterrestrial landscape teeming with aliens, Canoniac Launcher 2 presents a unique blend of fast-paced action and strategic gameplay, making it one of the most addictive flying games currently available online. Every launch becomes a nerve-wracking game of chance as you navigate through perilous terrain filled with alien invaders and unexpected obstacles.
This isn't merely about flying though. As one of the finest Skill Games, Canoniac Launcher 2 requires you to master timing, maneuver strategically mid-flight to collect bonuses and coins, and make quick decisions on upgrades to enhance Jimmy's capabilities. And speaking of upgrades, oh what a joy they are! From rocket boosters to anti-gravity packs, each upgrade brings a fresh twist to the game dynamics, making every launch a unique experience.
To sum it up, Canoniac Launcher 2 isn't just another run-of-the-mill robot game or flying game. It's an electrifying fusion of both genres that takes you beyond typical arcade experiences. It's fun; it's wild; it's unpredictable - all ingredients that make Canoniac Launcher 2 a must-play for any arcade enthusiast out there. So strap in for this interstellar journey that boldly takes the thrill of arcade gaming to new heights!
What are the best online games?