Canoniac Launcher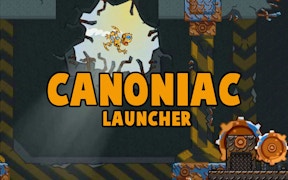 Canoniac Launcher
If you're a fan of arcade games, skill games, or flying games, Canoniac Launcher is the perfect game to add to your collection. Known for its addictive gameplay, it's the epitome of a thrilling flight adventure with an intriguing twist.
In Canoniac Launcher, you're not just any character, but a nimble, capable robot. The objective? To launch yourself as far as possible using a variety of tools: cannons, weapons, upgrades, and bombs. This isn't just another one in the pile of robot games; it's a test of skill and strategy that will keep you glued to your screen for hours.
The gameplay mechanics are smooth and well-executed. As you progress, you earn cash which can be used to upgrade your equipment. The diverse range of upgrades available adds an element of strategic planning to this flying game. You don't simply blast off into the sky; you need to plan your trajectory and wisely choose your upgrades to reach greater distances.
Visually, Canoniac Launcher boasts clean graphics with an appealing art style that will impress fans of arcade games. Coupled with its engaging sound effects and music score - it creates an immersive gaming atmosphere that enhances the overall experience.
In summary, Canoniac Launcher transcends the ordinary expectations from robot games or flying games. It takes players on a high-flying journey filled with strategic decisions and entertaining gameplay elements that sets it apart from other skill games. If arcade-style game with depth and replayability is what you seek, Canoniac Launcher certainly fits the bill!
Come take flight in the world of Canoniac Launcher – where rockets roar, strategy matters and every launch means a step towards victory!
What are the best online games?