Cano Bunny 2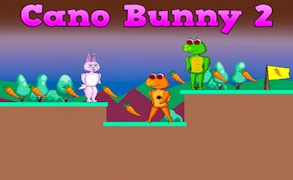 Cano Bunny 2
Description
In Cano Bunny 2, take on the role of a brave rabbit in this thrilling 2D platformer game. Your mission is to navigate through intense levels, collecting all of the irresistible carrots while dodging turtle monsters, spinning blades and spikes. Your goal? Reach the yellow flag to advance to the next exciting level. With 8 challenging levels, the thrill intensifies as you progress.
How to Play
Mastering Cano Bunny 2 requires dexterity and timing. Use "WASD" or "Arrow" keys to manoeuvre your bunny avatar around obstacles and enemies. The "W" or "Up" arrow key performs a double jump when pressed twice, granting a life-saving boost when needed most.
Tips and Tricks
In Cano Bunny 2, speed isn't everything - patience and timing matter more. Timing your jumps accurately will avoid most hazards. Remember, double-jumps can be utilized mid-air after single jumps for added flexibility.
Features
A charming protagonist in a cute rabbit avatar.
Eight mind-boggling levels with increasing difficulty.
Meticulously designed obstacles that guarantee an exciting gameplay experience.
Simple yet engaging controls for easy navigation and playability.
A unique double-jump mechanism for overcoming complex obstacles.
What are the best online games?