Candy Piano Tiles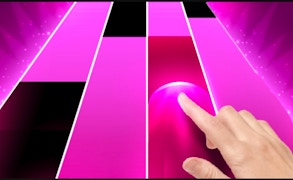 Candy Piano Tiles
Immerse yourself in the sweet symphony of Candy Piano Tiles, a vibrant entry in the realms of arcade music games that brilliantly combines auditory charm with visual delight. Giving you the dual thrill of a piano and skill game, it's an unmissable entertainment package for gaming aficionados.
Candy Piano Tiles sweeps you into a world where melodies reign supreme. What really sets this game apart from other piano games, is its vibrant, candy-themed interface. This isn't just any run-of-the-mill music game -- it's a visually stunning journey through a confectionery galaxy, each note rising and falling like shooting stars across a chocolate cosmos.
But let us not forget the sheer thrill that defines skill games: the rush of adrenaline as you hit each tile at the precise moment, perfectly keeping time with the rhythm. Candy Piano Tiles challenges your reaction speed and tests your timing skills in an engaging and interactive way. The pulsating beat doesn't just keep time, it keeps you on your toes - or in this case - fingertips!
Tucked beneath the glossy veneer of this game's radiant visuals is a complex labyrinth of rhythm and coordination puzzles that demands your undivided attention. The combination of pleasing aesthetics and challenging mechanics make Candy Piano Tiles thrillingly addictive.
In conclusion, Candy Piano Tiles is not merely another addition to the repository of arcade music games or piano games. It's an elating expedition that tickles your senses and challenges your reflexes while treating you to some stellar beats. So gear up, tune in, and dive headfirst into this candy-coated musical wonderland that is bound to keep both casual gamers and ardent pianists tapping for more.
What are the best online games?