Cam & Leon Donut Hop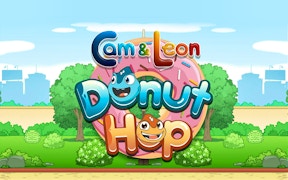 Cam & Leon Donut Hop
Prepare yourselves for a deliciously addictive journey through the world of Cam & Leon Donut Hop, a masterfully crafted gem in the realm of Arcade Skill Games. From the creative minds who brought us some of our most beloved 3D animations, this game offers a sweet treat of fast-paced action that's more appetizing than a baker's dozen!
In Cam & Leon Donut Hop, you'll find yourself embarking on an epic quest with our two lovable heroes, Cam and Leon. Their mission? To navigate through a perilous park filled with donuts. Yes, donuts! But not just any donuts - these are soaring rings that our agile protagonists must hop in and out of without hitting any obstacles. The park is their canvas and each hop is a stroke on their path to survival.
This flying game will test your reflexes and strategies as it presents challenging hurdles at every turn. The interactive tutorial gently prepares you for what lies ahead, but mastering the game is no small feat; it's akin to finding the perfect donut glaze recipe! The more you play, the more you'll realize that this seemingly easy to play game is as intricate as crochet work.
Adding an extra sprinkle to the gameplay are different characters just waiting to be unlocked. As you progress, say hello to other quirky characters like Leon, Ladybird, Ice Cube and Pepper Shaker! All adding color and variety to this already abundant tap game.
Cam & Leon Donut Hop not only passes with flying colors as an engaging clicker game, but it also serves up endless fun on a platter covered in arcade goodness. Its combination of rich graphics, unique concept and brain-teasing challenges makes it an irresistible feast for all gamers. So why wait? Hop into the grand adventure now!
What are the best online games?