Buuno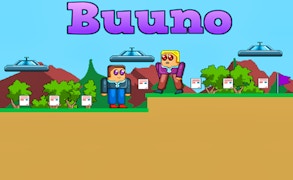 Buuno
Description
Step into the shoes of an office worker in Buuno, a thrilling 2D platformer game. Your mission is to collect all significant documents while evading the onslaught of devious colleagues, drones, and their deadly projectiles. Navigate treacherous terrain filled with lethal spikes and rotating saws. The ultimate goal is to reach the purple flag that serves as your gateway to the succeeding stages. With 8 levels to conquer, prepare for a challenge as the difficulty escalates progressively.
How to Play
To control your character, use either the "WASD" or "Arrow" keys, making sure to dodge harmful obstacles. For upward mobility such as jumping over obstructions or reaching higher platforms, press "W" or "Up" arrow key twice for a double jump. Each level ends when you hit the purple flag safely with all documents in your possession.
Tips and Tricks
Mastery of double jumping can be a significant game-changer - it helps you avoid obstacles more efficiently and grab hard-to-reach documents. Always keep an eye out for incoming bullets and stay alert for sudden drone attacks. Perfecting your timing and manoeuvre skills could mean the difference between survival and defeat.
Features
Diverse Challenges: From dodging bullets to outsmarting drones, experience various obstacles throughout your journey.
Progressive Difficulty: The game pushes your skills with increasingly challenging levels.
Skill-Based Gameplay: Success depends on your ability to time jumps accurately and control movements proficiently.
Engaging Levels: With 8 entertaining and mind-boggling levels, there's plenty to keep you occupied.
What are the best online games?