Bullet League Robogeddon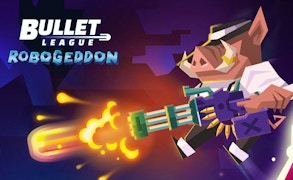 Bullet League Robogeddon
Get ready to plunge into the world of ruthless firing with Bullet League Robogeddon, one of the most ingenious gun games out there. As you battle against an army of emotionless, relentless robots, your mission is simple - emerge as the sole survivor. This intense, nerve-wracking contest stands out as one of the ultimate platformer shooting games, combining thrilling gameplay with an intensely gritty atmosphere.
This game flawlessly brings the excitement of 2D battle royale into your palms without the hassle of long loading times or frustrating connection issues. All that's required is to fire up this game in your web browser and indulge in unending action. Forget about downloads or passive spectating - Bullet League Robogeddon, one of those genuinely cool games, is all about raw combat.
Caught in a fix? Just hold your ground and dispense a rain of bullets! To prepare you for this deadly battleground, let's delve deeper into the gameplay. No gangster games or robot games could prepare you for what lies ahead. Whether you're confronting a horde of cold-hearted machines or embarking on a solitary survival mission, each moment guaranteed to keep you on the edge.
In conclusion, if thrill and challenge are what you seek in Skill Games, look no further than Bullet League Robogeddon. With its seamless, action-packed gameplay and stunning graphics, it sets itself apart in the realm of shooting adventures. So brace yourself for an unforgettable barrage of action and excitement!
What are the best online games?