Building Rush 2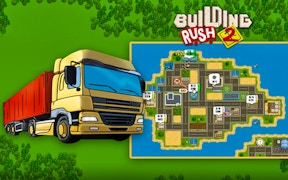 Building Rush 2
If you're a fan of strategy and management games, especially the challenging aspects of city building games and money games, then Building Rush 2 needs to be on your gaming radar immediately! It's an exciting escapade that puts you at the helm of managing a new town under construction.
Your job is to establish plants, produce building materials, and then sell them for a pretty profit. The challenge doesn't end there. You'll need to masterfully manage your resources - money being the most critical one. This blend of strategy and management takes conventional building games to a whole new level, creating an immersive experience which is relentless, satisfying, and rewarding.
You will find yourself enticed by a flurry of medals and achievements that are up for grabs in-game. These are not just shiny toys but deliver substantial value as they translate into upgrade points. These points allow you to enhance your productivity levels - creating a sense of progression hardly seen in other mainstream money games.
The dynamic mechanism of replaying levels to improve results adds another layer to Building Rush 2's strategic depth, allowing players to receive more upgrade points. It's an element that ensures the game remains fresh even after hours of gameplay.
In conclusion, Building Rush 2 is more than just about erecting structures and handling finances - it is about making strategic calls that dictate the fate of your virtual town. If you have what it takes to juggle hundreds of responsibilities simultaneously without losing sight of your objective, then this game is exactly what you're looking for in a thrilling strategy adventure.
Remember, it's not just about construction; it's about constructing efficiently and profitably in the world of this fantastic strategy driven management game.
What are the best online games?