Bug War 2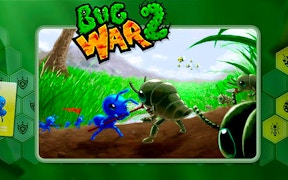 Bug War 2
In the vast expanse of Strategy and Management Games, one title stands out for its unique blend of warfare and insect-world mechanics, the enthralling Bug War 2. As a connoisseur of war games, battle games, and animal games, this gem will hook you with its uniquely intriguing premise and tightly woven gameplay.
Engaging your brain functions like never before in the realm of brain games, Bug War 2 invites you to take command of a race of ruthless insects, breed an invincible army, and lead them to battlefield glory. The game's mechanics are reminiscent of classic knight games, as you strategize and make calculated decisions to achieve dominance over rival colonies.
Bug War 2 is not just a game but an exercise in critical thinking and tactical prowess. Its immersive environment forces you to think on your feet, strategize, delegate resources, and manage your army - making it one of the best management games out there. It's a captivating mix of war tactics seen in battle games mixed with the primal ruthlessness associated with animal games.
The game catapults you into a world where being a skillful strategist matters much more than brute force, mirroring the essence of poignant knight games. In this high stakes bug war, every decision determines your survival - making it an addictive entry in the brain games category.
In conclusion, for fans of strategy, battle, animal or knight games that demand mental agility, Bug War 2 saturates all these cravings in an enthralling insect-themed battleground. Experience the raw thrill of warfare while flexing your managerial skills in this standout title that solidifies its place among top-tier management games.
What are the best online games?