BTS Sweet Kitty Coloring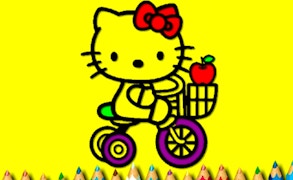 BTS Sweet Kitty Coloring
If you're a parent searching for perfect games for kids, look no further. BTS Sweet Kitty Coloring is your ticket to the magical realm of creativity, colors, and irresistible cuteness that kids absolutely adore! This delightful puzzle game tickles the imagination and promotes cognitive development while remaining entertaining and engaging.
As one of the best cat games available, BTS Sweet Kitty Coloring revolves around the adorable character of Sweet Kitty. This lovable feline is a favourite amongst both kids and adults alike, serving as a testament to the game's universal appeal.
The game mechanics are both simple and stimulating. Players are given free reign over an expansive color palette, with which they can bring Sweet Kitty to life in their own unique way. The possibilities are endless, making each playthrough an entirely new coloring adventure!
And it doesn't stop at coloring; this interactive experience goes beyond the traditional limits of coloring games. It's also one of those aptly designed drawing games. Your child can sketch and fill in patterns, adding their personal touch to each image, cultivating their artistic skills as they play along.
Overall, BTS Sweet Kitty Coloring brings a perfect balance between fun and learning. Its cheerful graphics, charming characters, and creative gameplay make it stand out among other puzzle games geared towards kids.
In conclusion, BTS Sweet Kitty Coloring offers more than just a gaming experience for your child - it is an opportunity for them to explore their artistic talents while enjoying hours of endless fun!
What are the best online games?