BTS Monster Truck Coloring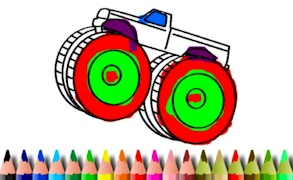 BTS Monster Truck Coloring
Step into the delightful world of BTS Monster Truck Coloring, an interactive extravaganza that perfectly combines the best of games for kids, coloring games, and car games. This game isn't just about fun, it's a visually engaging adventure that encourages kids to explore their creativity while honing their problem-solving skills.
In this gleeful junction of creativity and fun, you'll find a multitude of cool monster trucks waiting to be brought to life with a splash of color. With its collection of animated coloring pages, BTS Monster Truck Coloring gives kids the reins to express their artistic flair. From vibrant purples to fiery reds, your child can choose from an array of colors to paint their monster truck masterpiece!
The intuitive interface is easy for young gamers to navigate, making it a standout among other car games. Yet what sets BTS Monster Truck Coloring apart is its dual function as an engaging puzzle game. It nudges kids to think about which colors would look best together, thereby exercising their decision-making skills. It's more than just a game; it's a tool for cognitive development.
Another integral feature worth mentioning in this review is that BTS Monster Truck Coloring is also amongst the more stimulating truck games available online. The game's inclusion of various monster truck models keeps the gameplay fresh and exciting. Furthermore, being a freely available online game, it offers unlimited access to fun without any cost.
In conclusion, BTS Monster Truck Coloring not only stands tall as an impressive combination of multiple game genres but also as an effective learning tool for children. Its outstanding balance between entertainment and education makes it one of the must-try games for kids.
What are the best online games?