BTS Dinosaur Coloring Book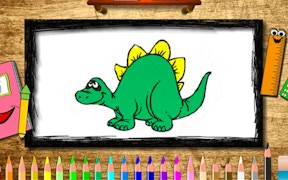 BTS Dinosaur Coloring Book
Delve into a prehistoric world of colors with the BTS Dinosaur Coloring Book! This kid-friendly, puzzle-themed game is a fun and innovative addition to the popular genre of drawing games and coloring games. Loved by children far and wide, this game offers an engaging foray into the world of dinosaurs, making it an irresistible attraction among dinosaur games available online.
The basic premise of BTS Dinosaur Coloring Book is simple yet endlessly engaging. You are given a blank coloring book teeming with dinosaurs in various forms and sizes. It becomes your very own canvas, allowing you to create a color world that is unique to your imagination. The mix-n-match aspect of selecting any image you want to paint adds a delightful dash of unpredictability to the game.
This game stands out in the cluster of typical Games for Kids due to its dynamic palette. Young players can select their favorite hues with an easy-to-use brush tool and fill the dinosaur templates with colors they fancy. It's not just about coloring within lines; it's about exploring endless combinations of shades that bring these ancient creatures to life!
The joyous journey of creating a colorful and perfect painting lends itself beautifully to enhancing kids' motor skills while also fostering creativity. Optimized for free online play, BTS Dinosaur Coloring Book provides endless fun at no cost!
So parents, if you're on the lookout for an enriching yet enjoyable game that will keep your little ones hooked for hours - BTS Dinosaur Coloring Book is your best bet. Unleash your child's artistic potential while letting them embark on a fascinating journey through time with this phenomenal dinosaur game.
In conclusion, BTS Dinosaur Coloring Book is not just another game; it's an adventure that awaits every child ready to embrace their imagination! So dive in today!
What are the best online games?