BTS Cat Coloring Book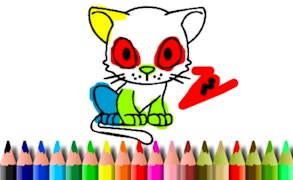 BTS Cat Coloring Book
Unleash your child's inner artist with BTS Cat Coloring Book, an enchanting blend of drawing games and coloring games. This game is not just another addition to the burgeoning segment of Games for Kids, but a remarkable platform where young minds can explore their creativity and color perception.
In this captivating world of colors and designs, your little ones can choose from a variety of adorable cat pictures, making this game a fantastic addition to the category of cat games and animal games. With a simple interface, BTS Cat Coloring Book ensures that children can dive straight into the world of coloring without any complex instructions.
The game provides various brushes that gamers can use to complete their masterpiece. What sets BTS Cat Coloring Book apart is its innovative design that not only engages kids in a fun activity but also encourages them to create a unique and beautiful world with their perception of color.
The real magic lies in the freedom it offers. The game doesn't limit players with prescribed color sets for each image, rather it encourages them to experiment with different colors and create something truly unique. This flexibility brings out the artist in every child, making BTS Cat Coloring Book more than just a regular drawing game.
The vibrant graphics, coupled with soothing background music, create an immersive environment that keeps players engaged for hours on end. BTS Cat Coloring Book embodies an imaginative realm where kids can express themselves creatively without hesitation or restraint.
BTS Cat Coloring Book is not just a free online game, but an exciting platform where young artists can unleash their imagination. Whether your child is an aspiring Picasso or simply enjoys playing around with colors, BTS Cat Coloring Book is the perfect outlet for them to express their creativity.
What are the best online games?