Bowling vs Zombies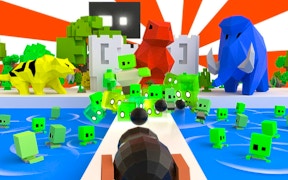 Bowling vs Zombies
Dive into the thrilling world of Bowling vs Zombies, a riveting blend of ball games and zombie games that will keep you hooked for hours. Picture the fun, excitement and strategy of bowling games peppered with the adrenaline rush of battle games. This is not your typical pixel game; it's a breathtakingly immersive fight for survival.
This game turns the familiar pastime of bowling on its head. Rather than simply rolling a ball down a lane, your mission is to vigorously defend your realm from relentless waves of undead using a powerful cannon. But this isn't about destruction -- it's about precision and strategy. Just like bowling, you need to anticipate and aim rather than blindly attack.
As a player, you find yourself standing on the edge of a castle bridge, blasting advancing zombies into the water below to safeguard your stronghold. Every two levels will culminate in an epic battle against a formidable boss where unlimited cannon fire is your only lifeline. With each successful defense, you earn not just sweet victory but cool skins to deck out your cannon.
One thing about this game that stands out is the increasing difficulty through its many levels – just when you think you've mastered it, more zombies advance at higher speeds. The stakes get higher as the environment changes every three levels but don't worry - you've got 30 lives per level at stake to keep you in play.
For those eager to engage their strategic minds while enjoying the heart-pounding thrill that comes with pixel games or zombie games, Bowling vs Zombies offers an exhilarating yet fun experience that will have them coming back for more.
What are the best online games?