Bomb The Bridge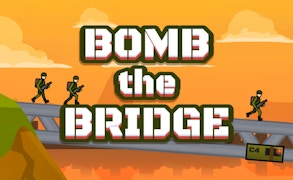 Bomb The Bridge
Delve straight into the fray with Bomb The Bridge, an enthralling addition to the Action genre that seamlessly amalgamates elements from skill games, war games, and battle games. This game is a true test of strategy, cunning, and precision, pushing you to the brink of your tactical prowess.
The premise of Bomb The Bridge is simple yet intriguing. You are entrusted with the mission to strategically plant C4 bombs along a bridge, biding your time until enemy troops commence their cross, and then, in a heartbeat, you unleash hell by triggering deadly detonations. Your objective? Annihilate 100% of the bridge along with every last one of those enemy troops. If this ominous task is fulfilled to perfection, you'll be awarded 3 magnificent stars!
The game truly shines in its implementation of realistic physics. Every explosion feels weighty and consequential as fragments of bridge scatter in all directions in a stunning visual spectacle. Get ready for adrenaline-rush moments where military trucks wobble precariously on crumbling structures before plummeting into the abyss below.
The levels are meticulously designed to pose a solid challenge that will tease your brain cells, backed by an engaging theme that keeps your fingers glued to the screen. Aside from decimating foot soldiers, be prepared to take down military trucks and even formidable tanks. Each level brings its own unique challenge escalating your excitement at every turn.
So gamers arm up and prepare for an explosive journey with Bomb The Bridge- because when it comes to war games combining strategic thought-process and skillful execution, it doesn't get better than this! Brace yourself for one helluva gaming experience that easily leaps into must-play territory for any gamer worth their salt.
What are the best online games?