Boho Chic Spring Shopping 2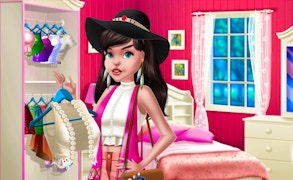 Boho Chic Spring Shopping 2
Welcome, our budding fashion enthusiasts and gaming aficionados, to our in-depth review of the enchanting world of Boho Chic Spring Shopping 2, an exceptional game in the realm of Games for Girls. Nestled comfortably among other beloved dress up games, this gem boasts features that elevate it beyond your typical foray into the gaming world.
The heart of Boho Chic Spring Shopping 2 beats with the rhythm of spring blooms, exuding creativity and inspiration on every screen. Fans of vibrant fashion games and expressive Hairdresser Games will find Boho Chic's stylish universe a splendid arena to unleash their imagination. It's not just a game; it's a journey that mirrors the exhilaration of a full-on spring shopping spree.
Boho Chic Spring Shopping 2 takes you on an enthralling quest to create an impressively chic spring ensemble for a delightful character. Much like its predecessor, it provides an immersive playground for aspiring fashionistas. Whether you're a seasoned player or just beginning to explore the thrilling challenges in this game, you're bound to feel like a master fashion guru.
A standout feature that makes Boho Chic Spring Shopping 2 shine is its evolving makeup games component. Your creative input impacts not just the outfits but also the character's makeup artistry and hairstyle arrangement. This game isn't merely about fashion; it pushes you to create and manage a cohesive, aesthetically pleasing look that truly encapsulates 'chic'.
In conclusion, Boho Chic Spring Shopping 2 is not just another addition to the array of dress-up adventures; it shines as an innovative amalgamation of hairdressing and makeup games that's both captivating and cognitively stimulating. It is indeed an impressive offering in the catalog of entertaining and educational Games for Girls.
What are the best online games?