Boca Moca Freelancer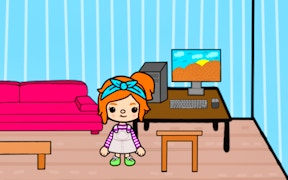 Boca Moca Freelancer
Description
In Boca Moca Freelancer, you get to experience the life of a home-based, self-employed coder. Balance your work tasks with maintaining your computer's health, decorating your living space, and personal care - including keeping yourself well-fed and stylishly coiffed. With every correctly executed code, you increase your earnings and unlock new possibilities for customization.
How to Play
Game progression in Boca Moca Freelancer is achieved through correctly typing in code sequences, which earns you money. This currency can be spent on home items, food or hair styles. The focus should be kept on maintaining your PC's security from viruses and ensuring the avatar's needs are met.
Tips and Tricks
Earning money faster in Boca Moca Freelancer involves increasing your coding skills and efficiency. Stay vigilant against potential computer viruses; an infected computer can hinder progress. Don't forget about the avatar's personal needs or home decor as they affect productivity.
Features
Mix of simulation and coding game.
Home decoration for personalised gaming experience.
Virus threats, adding element of problem-solving and defense strategy.
Diverse upgrade options, from tech to personal care.
Possible real-world application with basic coding lessons.
What are the best online games?