Bloxy Block Parkour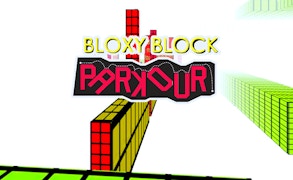 Bloxy Block Parkour
Description
In Bloxy Block Parkour, you take control of an adventurous explorer trapped in a blocky universe. Your goal is to navigate your way through a variety of uniquely designed levels, bouncing from one platform to the next, in order to reach the portal at the end of each stage. The game is packed with exciting surprises and thrilling twists that will keep you on your toes!
How to play
Navigate your character using the arrow keys or by swiping on your mobile device. Jump across platforms and avoid falling. You need to reach the portal at the end of each level to progress. As levels get progressively harder, timing and precise jumping become crucial for survival. The game counts on both skill and strategy.
Tips and Tricks
Plan your move before making a jump as precision is crucial. Keep an eye out for unexpected detours or shortcuts that may help you reach the portal faster. In more difficult levels, remember that speed isn't always necessary - sometimes, patience can be a winning strategy.
Features
Skill-based arcade platformer gameplay.
Diverse levels with increasing difficulty.
Easy controls suitable for all ages.
Captivating blocky visuals.
No downloads necessary – can be played directly in browser!
What are the best online games?