Bloons Tower Defense 4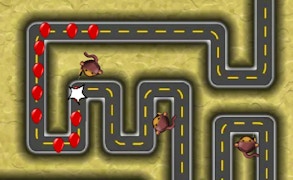 Bloons Tower Defense 4
Balloons are a very whimsical object that you probably aren't going to encounter in your everyday life, but they're the main enemy in Bloons Tower Defense 4 (Bloons TD 4). This series continues as the group of mischievous monkeys with access to some serious firepower are unleashing everything they can upon an endless supply of balloons. True to the tower defense form, you're protecting yourself from these surprisingly persistent balloons that seem set on getting close to you and popping. The only way to prevent this is to call on the help of the monkeys so that they can pop them before they even get close to you.
About Bloons Tower Defense 4
The tower defense game is maybe not as popular as it once was, but you could argue that it paved the way for idle games. The bulk of the gameplay here in Bloons is committed to the core mechanics and you can play it casually or while doing something else in the background. It's also possibly one of the most harmless and innocent tower defense games out there since it's literally about monkeys popping balloons. Enjoy the quirkiness of such a scenario and command the best balloon-popping force that you can.
How to Play
Bloons Tower Defense 4 is a top-down 2D tower-defense game that you can play with just the mouse. The game starts after you select a difficulty and a track to play on. After that, you will go to the map and you can start planning your strategy. You'll start at the lowest rank with only a few units and resources available to you. These will be in a menu on the right side of the screen and more will unlock as you clear waves.
To place a unit, click on their icon and then click on an open space on the map that's not the track in order to place it. Each unit has its own range, power, and attack type. You can upgrade units that have been placed by clicking on them and selecting the upgrade at the bottom of the screen. They can also be sold for additional resources and to clear space. Units will automatically attack any ballons that come into range. You can also lay traps specifically along the track to damage balloons, but these tend to disappear at the end of the round.
Your health is represented by a heart counter on the upper right side of the screen. Balloons that reach the end of the track will cause your health to drop and if it reaches zero, it's game over. The goal is to clear all the waves of balloons on each track.

Tips and Tricks
Since you start off with so few units, this is your chance to use the early game to set up a solid base defense. This will let you save money early on which can spent toward upgrades and units with better coverage. Always keep some resources in reserve so that you can place damaging traps in an emergency.
Bloons Tower Defense 4 Game Modes
In addition to the different tracks that the game has, it also has multiple difficulty modes to test your skill.
Easy - Units are cheap, you have 200 health and 50 waves to beat.
Medium - Units have balanced pricing, you have 150 health and 60 waves to beat.
Hard - Units are expensive, you have 100 health and 75 waves to beat.
Sandbox - Unlocked at rank 26, this mode gives you unlimited resources to play with the units and test them out against different balloons.
Apopalypse - Unlocked at rank 51, balloons are endless and won't stop coming until you're defeated.
Game Details
Developer: Kaiparasoft
Platforms: Web Browser (PC and mobile), iOS, and Android
Languages: English

Gameplay Footage
FAQs
Is Bloons Tower Defense 4 free?
The game is currently free to play and download on all available platforms. However, it does have in-game purchases for content such as new tracks.

Games similar to Bloons Tower Defense 4
Titles such as this one fall into the Animal and Battle Games categories on GamePix. You can play the sequel in Bloons Tower Defense 5, as well as games like Merge Cannon, Monster Rush, and My Shark Show.
What are the best online games?
TAGS